Let's all take a moment to realize that we're nearly half-done with Thursday. This, to me, means it's basically Friday. Even better than that is the pending three day weekend and following four day week. A long weekend is truly a gift that keeps on giving.
My memorial day weekend is going to be filled with the following:
Girls Night
Shopping
Cleaning
Couple Friends
Day Beverages
Sleeping
Snuggling
(cue: "These are a Few of My Favorite Things")
Most important on this list (and most exciting!) is shopping. I've lost over 15lbs since last summer and none of my clothes fit. I'm going to spend my Saturday attacking the outlets to take advantage of the Memorial Day weekend sales.
Here is my shopping list: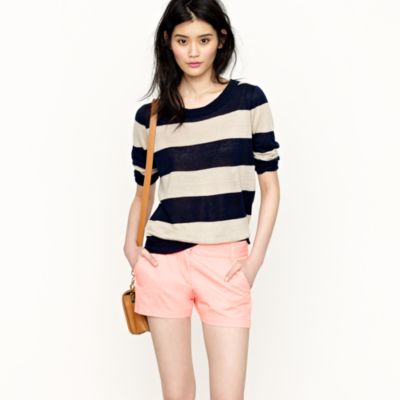 Peach Cotton Chino Short from JCrew
A Gold, Breathable Summer Flat

-

A few printed dresses that I can throw on in the DC heat
-A thin white blouse for work days
...and the dreaded bathing suit.
I'm looking forward to posting what I scoop up (and what I save ;-)!!)
axoxo
-A